Avoid the Common Mistakes People Make Breeding Insects
New Breakthrough Methods that have Slashed Maintenance for Cricket Breeding !
"How Automated Feeding and Cleaning Systems will Make Breeding Crickets  Less Time and Effort Than Standing in Line at your Pet Store"
Prevent Devastating Pests, Increase Profits, and Work Smarter Not Harder
I Would Like to Invite You to a Free Video Information Session (Skype or Facebook Live) on How to Breed Crickets and Cockroaches… using Tried and Tested, Low Maintenance Methods
Have you tried to breed crickets and failed, or thought it was too hard? Or would you like to breed cockroaches more efficiently, with less cleaning, feeding and escapees?  We can help you get on the right track.
Our systems are different….we have spent 13 years developing new commercial and private breeding methods that have slashed maintenance, eliminated offensive odor and significantly increase production. You can now breed feeder insects with less time than standing in line at your pet store buying insects.
What will the Information Session Cover
The main purpose for the session is to help you get the right information to become independent insect breeders. This has helped me pursue my passions (Reptiles, Wildlife Rescue, Wildlife Projects) so I enjoy sharing information and experience.
They are available for people who just have insect breeding questions, or for people who have bought our book and want clarification on something. In the session I will cover the following:
Answer questions regarding how to breed crickets and Cockroaches . We often refer to the photos from our books or show you videos to answer questions. (no mealworm questions due to time restrains)
We will give you an overview of our systems  (Breeding, Container Design, Maintenance and Feeding), however the specific detail of how to build our proprietary systems can be obtained by purchasing our books and videos.
There is no obligation at all to purchase the books or videos. We do offer a 20% discount  for those who attend the information session.
Information sessions can be done as: 1) Skype session at a Groups General meeting (via laptop, TV or Screen), 2) Skype session at a designated time (from home) 3) Facebook Live Video feed. Message (if on social media) or email me to organize a session.
Times for the session are flexible between the times 9:30am to 10:30pm Australian Eastern Standard Time (AEST), depending on availability.
 About Me and WildlifeHub
Hello wildlife Enthusiast,
My name is Glenn Kvassay, I am the founder of WildlifeHub.com and the author of "The Complete Cricket and Cockroach Breeding Manual". Wildlifehub is a site dedicated to training people how to breed feeder insects and has free training courses, book, videos and offers consultancy.
I have been breeding and training people how to breed crickets, cockroaches and mealworms both commercially and privately for 13 years. We started breeding insects to reduce costs associated with rehabilitation of injured Quolls (marsupial cat) and reptile keeping, but then starting selling excess stock to Zoos, Pet Stores, Wildlife Rescue and the General Public.
Our Insect Breeding Systems have been used around the world to set up private and commercial insect breeding farms. We also provide a consultancy service for commercial production.
Why our Systems are Low Maintenance
Over this time, we've developed new and innovative techniques that for the first time allows crickets to be bred with the same effort and consistency as cockroaches. This is a significant development for wildlife enthusiasts who for the most part have been limited to breeding cockroaches or mealworms, which have lower maintenance requirements and greater breeding consistency. How would you like an automated cricket breeding systems that;
Needs no active management;
Collects waste for you;
Food/ water dispensers  which attends to your insects for 14 days or more;
Requires only 5 minutes maintenance every 10-14 days (less time than standing in line at the pet store)
Systems so productive that the average 2 child family will be able to feed 4-12 bearded dragons (depending of feeding rate) just from their scrap vegetables;
That's over $1400/year cash you are currently throwing away!!.
Our Resources
We have lots of articles on our website or videos on our YouTube channel for you to look at.
Our books and videos  are the most complete and comprehensive on the market. For example, the Cricket book is over 130 pages in length and includes "Step by Step" instructions in conjunction with more than 220 photos, tables and diagrams. Our cricket books also include videos on how to build our cricket breeding system for private production (or small scale commercial). For more detail of our products click here.
Please feel free visit our website at http://wildlifehub.com/feeder-insects/ to view details of our systems or to sign up to Free Training Courses (see link below).
If you like our sessions or think others would also benefit, please let others know via social media or word of mouth.
Regards
Glenn Kvassay, BAppSc
0417 729 509 (AU)
Free Cricket Breeding Course
For more information on how to breed crickets, get your free 9  lesson  today.  This training course has videos and lots of useful information which covers:
How a conventional cricket breeding system works
How our proprietary cricket breeding system works
Cricket biology
Container design
Feeding, gut loading
Heating
Pest management and lots more…
The Worlds most Comprehensive Cricket Breeding Guide
With around 160 pages and 240 color photos our insect breeding book series set the benchmark for insect breeding. To see why our book is the most comprehensive book you can buy on the topic, Click Here. We also include a free book sample to show you the contents page and start of the book. 
Why not Turn an Expense Into Income?
For Information and advice on commercial production, Click Here.  We have been breeding insects to Zoos, Wildlife carers, pet stores and the public for over 14 years.
We can show you how to build a profitable insect business. See below how you can follow our latest project converting a 20 foot caravan into a profitable insect business.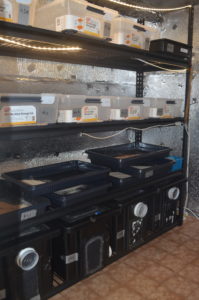 We are Converting a Caravan into a Profitable Insect Business..
Follow us on Facebook @breedinginsects to get Regular Video Updates