Cricket Breeding Training 
Lesson 10- Our Commitment to You

I am sure by now you aware we have a wealth of information to share. The good news is that our books container a whole lot more information than we could ever include in our lessons. Our books are crammed with hundreds of photos, diagrams and tables to give you everything you will ever need to be self-sufficient in live foods. This has enabled us to follow our passion rehabilitating quolls (see photo) and keeping reptiles.
They are by far the most comprehensive, well researches and innovative methods in the world. Best of all our systems are easy to build and are made from recycled materials or from your hardware store.
Zega Enterprises Commitment to you…Much More than Just the Best Books and Videos
When you purchase a Zega book and videos, you get full access to our training and troubleshooting services, which includes;
Email support to answer any questions
Skype conferencing sessions to answer any questions or troubleshooting. If you have any problems, we will talk you through everything step by step, until you master the techniques.
No matter your skill level, our techniques will improve your efficiency and move you well past the "place a bowl of vegetables and toilet roles in a fish tank" stage.
Commercial Production Experience…Turn an Expense Into Income!!
We have bred crickets and cockroaches commercially for 10 years to wildlife parks, zoos, pet stores, wildlife rescue clubs, large scale reptile keepers and the general public…. and we are happy to pass on our commercial tips to you.
This is the only guide that has sufficient detail and experience to be used for private and commercial cricket/cockroach production.
See What People Are Saying About Our Books!!!
The breakthrough wildlife enthusiasts have been waiting for. The crickets just keep coming!! .
This book is amazing, there is so much information. Finally, a cricket breeding guide that offers something different to "placing toilet rolls and a bowl of vegies into a fish tank
I wish I had discovered this book years ago. I can't believe how little time in now takes me to clean my woodies colony now
Discounts
Our books are available electronically or paperback and if you purchase two or more books you get a discount.
If you are a member of a reptile or wildlife organization, contact us at info@wildlifehub.com to find out how to get our books at half price along with free Skype training for your members.
Our Guarantee
We provide a 100% refund guarantee if you are not completely satisfied with your purchase.
How to Purchase our Guides
You could spend over a decade in a shed learning the methods we have accumulated in our books and videos. Or you can get the benefits right now by purchasing our books from Our products page….and save you thousands of dollars, and hundreds of hours in wasteful and painful experimentation.
Fast track cricket breeding with 14 Years experience and the Worlds most comprehensive cricket breeding book. Have a First Hand Look at the Book in This Video.
The Worlds most Comprehensive Cricket Breeding Guide
With around 160 pages and 240 color photos our insect breeding book series set the benchmark for insect breeding. To see why our book is the most comprehensive book you can buy on the topic, click Here  or to purchase click Here. In this link we will provide you with:
A Book sample with includes the books contents. 

50 techniques our books will provide you to save time and effort.

How to access free videos when you purchase the books

How to breed crickets and cockroaches using the same materials. 

 
Guided online tour of the Worlds most comprehensive Cricket Book
Why not Turn an Expense Into Income?
For Information and advice on commercial production, Click Here.  We have been breeding insects to Zoos, Wildlife carers, pet stores and the public for over 14 years.
We can show you how to build a profitable insect business. See below how you can follow our latest project converting a 20 foot caravan into a profitable insect business.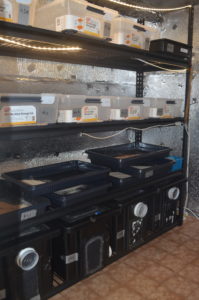 We are Converting a Caravan into a Profitable Insect Business..
Follow us on Facebook @breedinginsects to get Regular Video Updates